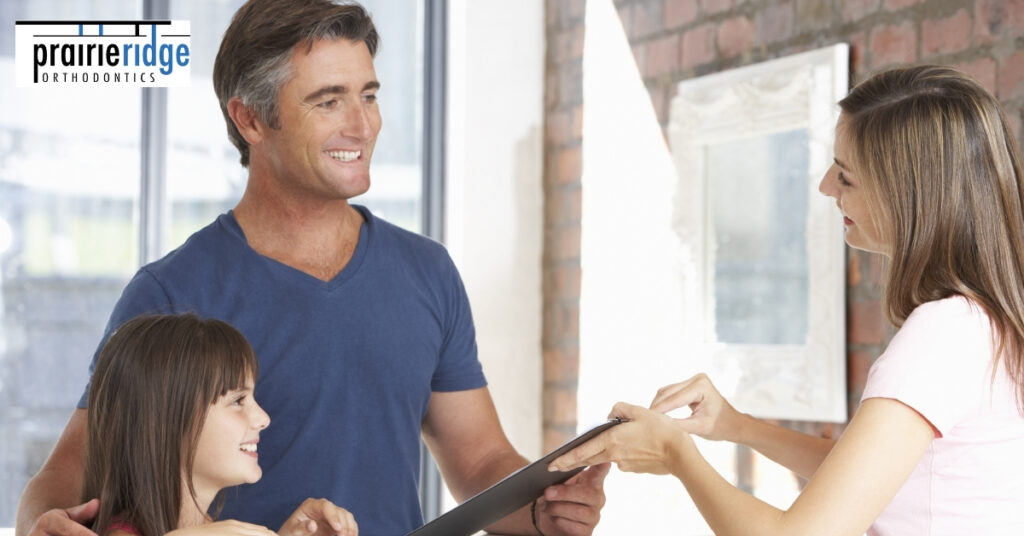 We have seen thousands of patients at Prairie Ridge Orthodontics over the years and we have had every type of patient sit down for their very first consultation from the jitterbug to nerves of steel. It's only natural to feel a little nervous at your first orthodontic appointment. One thing to keep in mind is that this is your first step on the way to a beautiful, healthier smile.
To help you feel more comfortable, we outlined exactly what will happen during your initial consultation with Prairie Ridge Orthodontics. Remember, our team's focus is your health and safety. No matter how many new smiles we create for our many patients, each one is unique and deserves personal time and attention.
Meet the Team
Before anything else, we want you to meet our wonderful staff. Here at Prairie Ridge Orthodontics, we pride ourselves on our knowledgeable, friendly team of orthodontic professionals. From the moment you walk into our office and meet our front office team to getting to know Dr. Loveless, every single one of us has a responsibility to ensure your experience is as wonderful as possible. Just like with your amazing new smile, we pride ourselves on first impressions.
Oral Examination and Digital Images
Speaking of impressions, your next step is to slide into the examination chair where we will begin the nuts and bolts of the consultation process. Don't fret! You can forget about that icky feeling that came with the traditional way to make impressions of your teeth. At Prairie Ridge Orthodontics we have invested in the latest and greatest in orthodontic technology. Our Itero Digital Scanner takes 3-D digital images (impressions) of your mouth, allowing us to permanently retire that uncomfortable, gooey, putty material that is typically used. At the same time, it provides more precise information for better fitting appliances and enables shorter appointment times. The results are faster turnaround time, comfortability, and accuracy in the treatment plan.
Treatment Plan Options
Once we scan your teeth and check your dental records, we will talk to you about your treatment plan options. As we said, every patient is different, with a different idea of the perfect smile and how they want to get there. We will present the options and work with you to get the most out of your orthodontic treatment with us. This is also a good time for a Q&A. Ask everything and anything you want to know about the options we present and your hopes and fears about the process. We want to make sure you're as comfortable as possible with the journey we take to get you a better, healthier smile.
Payment Options
As well as offering the most up-to-date orthodontic digital technology and treatment options, at Prairie Ridge Orthodontics we want to make sure you have a payment option that works for you.  Once we decide on a treatment plan, we make sure we create a payment schedule that fits into your budget. No one should forgo needed oral care, so we make it as easy as possible to discuss finances, often one of the most difficult conversations to have when it comes to medical care. We will go over your insurance and offer flexible payment plans so you don't ever have to worry about affording orthodontic treatment.
Scheduling Your First Appointment
Next, we will get you set up with your first appointment to start you on your way. At this point, we hope we have answered all of your questions, addressed your concerns, and made you feel comfortable with your journey with Prairie Ridge Orthodontics to create your best smile ever.